ARTIST



BETTER LATE THAN NEVER​
Some years ago, I brought two paintings to my parents which I had done as gifts for them. To my surprise, my mother handed me my kindergarten report card. The teacher had written that I showed a talent for art and recommended that I be encouraged to become an artist. The next year I was enrolled in a private school where no art was taught and that was to continue for twelve years. By the time I reached my senior year in high school, I no longer even considered art as an option.​
​

D

enied access to artistic training as a child and ​in much of my adult life, I rediscovered my talent when a friend asked me to enroll in her design class at a local technical school. She needed another body for the class to ​be held. I surprised myself and had a wonderful time. Years later I now work in watercolor, oils, acrylics, have two sculptures, numerous prints and particularly love mixed media/collage.

Here is a link to my other artist's web page:
​​​​
www.fineartamerica.com/​judyribbens​
CURRENT ART ACTIVITIES

2016 I am currently working as a mental health counselor using Arts
T​​​​herapies, Cognitive Behavioral Therapy, EMDR, and portions of other therapies such as Internal Family Systems, Brainspotting, and Gestalt.

2017 My work as a counselor has taken most of my time. I am feeling the loss of creating art. But one period stands out. My great grandson, Myles Deutscher, was born with multiple heart defects and our families were catapulted into fund-raising for the many tests and operations he's had to undergo. One of those events was an auction and my collage, AFTERNOON BOUQUET garnered $140.00 with another on-the-spot painting I did adding another $40. It didn't seem like much but the people who donated for AFTERNOON BOUQUET then gave the picture to Myles' parents, Eric and Kelci Deutscher, for their home. A beautiful and kind gift! Through the incredible generosity of people, every bit of medical expense was covered!!!

​
2018 and still an artist and a therapist~ ​
​​
THE OLD SENTINEL
watercolor
matted and framed
SIZE:
$395.00
​​​​​
ISLAND SPIRITS
watercolor
matted and framed
SIZE:
$​​​​85.00
WINTER FANTASY
​​watercolor
matted and framed
SIZE:
$​​​125.00
JOURNEY TO THE CENTER


watercolor​
matted and framed
SIZE:
$​​​
ARTS EDUCATION

​
University of Wisconsin-Green Bay


I began to take classes at night and in summer, one per semester. This continued for some years. They included:
Sculpture, Ceramics,​​​​ Life Drawing, Oil Painting, Intaglio Printing, Serigraphy (screen printing), and Monoprinting.
Teachers included Wisconsin artist, Caroline Beckett, Nigerian artist Clary Nelson Cole,

Tim Josephs

, and

Kurt Heuer

.

In the Green Bay community​​ I took my first watercolor class from Bridget Austin.
At Northeast Wisconsin Technical Institute, I took

Mary Curran

's class where I discovered I really had undeveloped talent.
​​
​ I am privileged to have taken one watercolor workshop from international artist, Zoltan Szabo, may he rest in peace, and I have autographed copies of several of his books.

I had dance training in Afro-Brazilian dance, Modern dance, Ballet from Nikolai Makaroff, and ballroom dance from Kevin Shepardson.​​

I graduated with a B.S. degree in Human Development from UW-GB and combined that some years later with art to obtain post-graduate Art Therapy certification at Mt. Mary College, Milwaukee, and then followed that with​ further training at Lesley University, Cambridge MA, to obtain a master's degree in Expressive Arts Therapies. At Lesley and Mt. Mary I had the great privilege of being taught by some of the pioneers in the art, music, and dance and movement therapies, including

Sean McNiff, Don Jones, Thomas Moore, Paolo Knill, Evadne McNeill,

and many others.

I am a Licensed Professional Counselor in Wisconsin and have spent over twenty-five years in the mental health field. With additional training in trauma and EMDR counseling, I have had the opportunity and privilege to use the arts as healing tools with many clients and groups.

I have healed myself from addiction, depression and post-traumatic stress syndrome using the arts--with guidance from counselors at times--but it was instinctive in me to do this.

In my experience, there has been nothing as emotionally healing as participation in the arts. This experience is replicated for people throughout the world again and again at art schools, galleries, ​​and programs which bring the arts to those who need and seek joy.

​​
​​
BLUE IRIS
watercolor
matted and framed
SIZE:
$​​​​85.00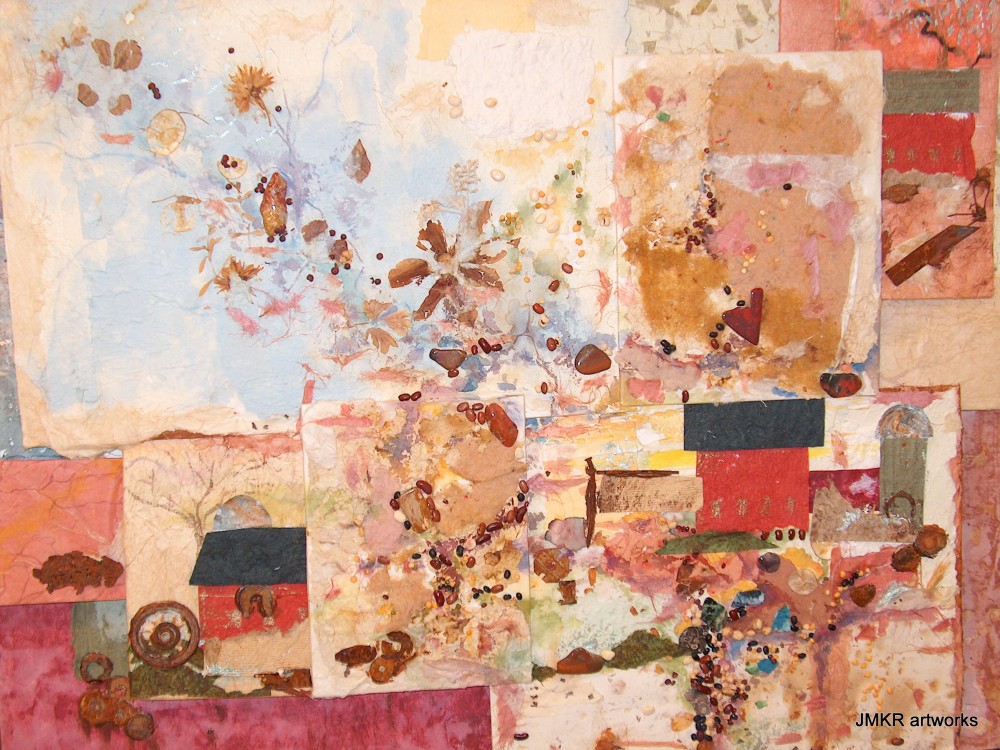 An art essay on disappearing farms, this is a large multi-dimensional collage. It is currently not framed.
FOLK SONG FOR THE OLD FARMS


Size: 36 h x 48 w:

Subject: disappearing farms in a landscape:

Medium: handmade and torn paper, found objects

:

Style: abstract

: Presentation: this work is built on layers of fomecore which project the segments 4"from the stretched canvas base. Needs deep frame.
​
​​​$ 1255 UNFRAMED $1595 FRAMED This will be framed in a handmade recycled barnwood frame.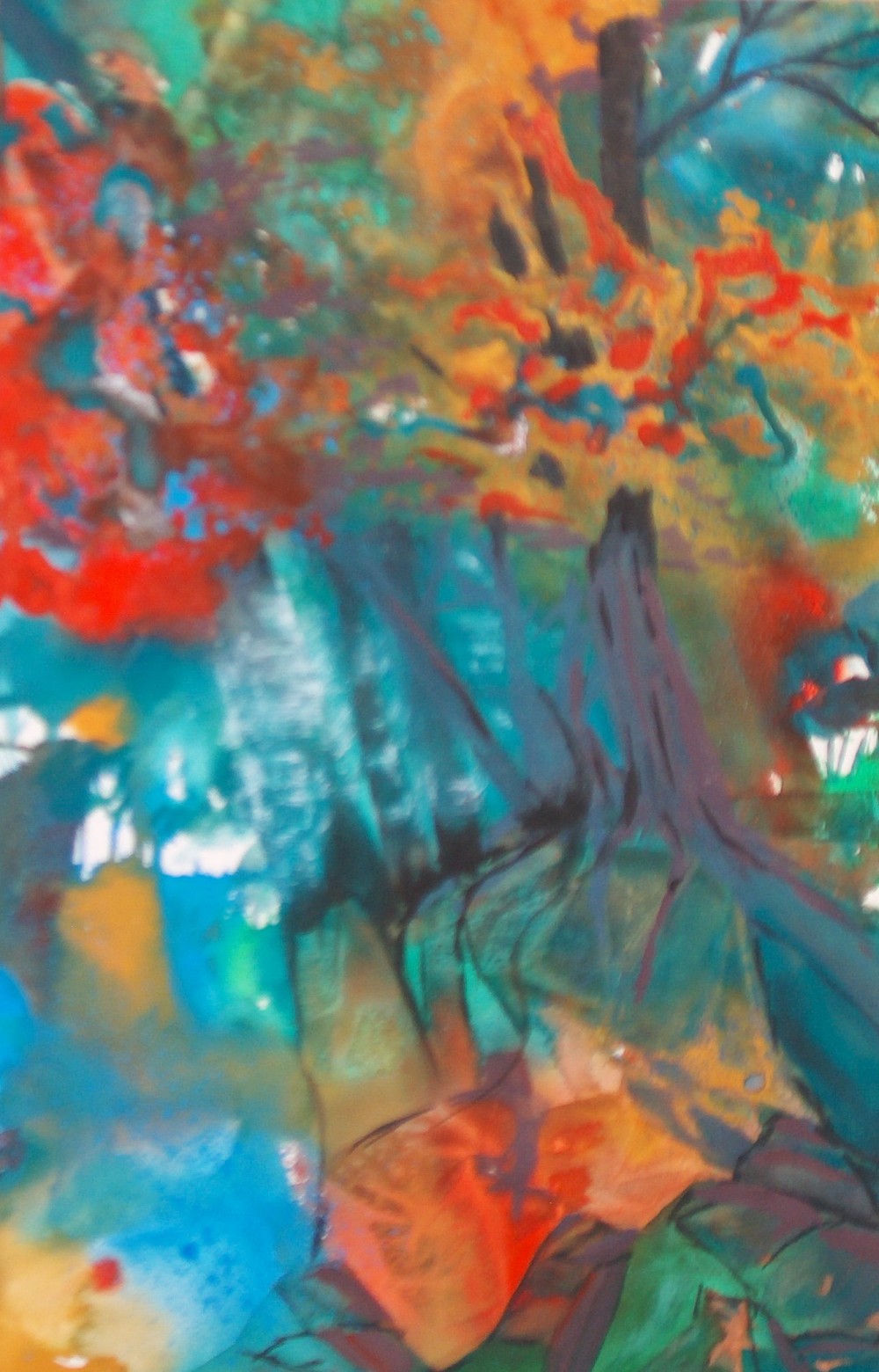 GIFT FROM ZOLTAN
This in no way resembles Szabo's work, but his encouragement allowed me to work spontaneously, freely, and to enjoy abstraction. This was done in his workshop.

watercolor
SIZE:​
$​275.00
​​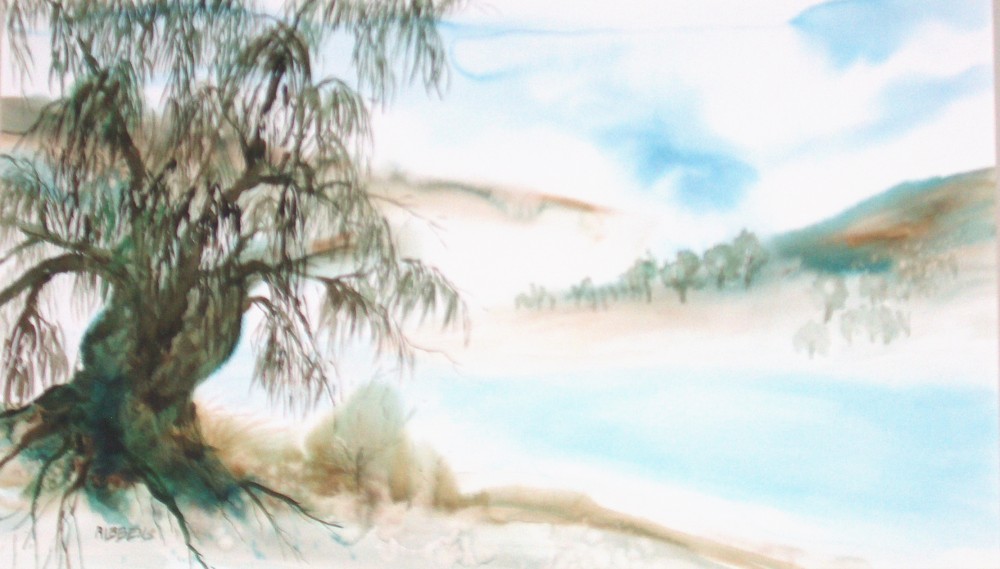 WILLOW RIVER FLOWS
watercolor on watercolor board
matted and framed
SIZE:
$​​​​​295.00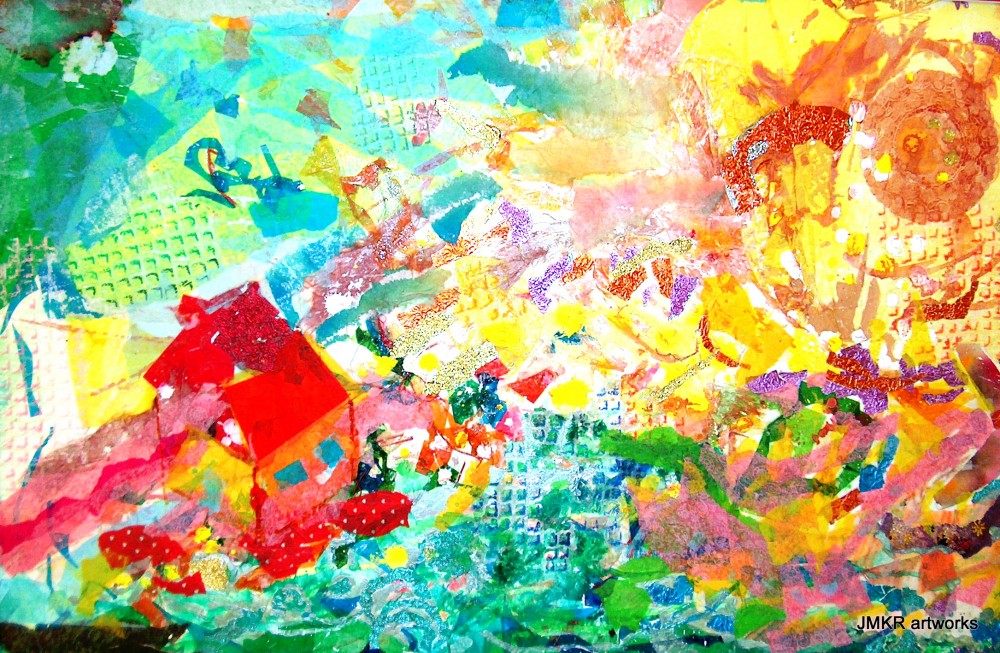 DANCE OF THE SOLAR WIND
mixed media collage
unframed
SIZE:
$​​​​1000.00 when framed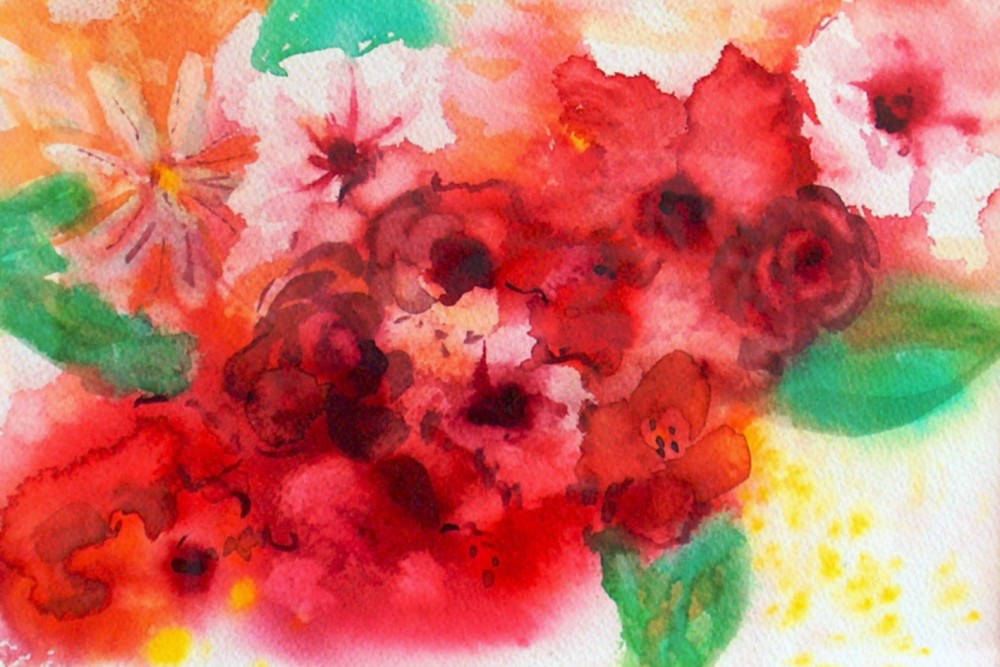 HIBISCUS
watercolor
matted and framed
SIZE:
$​​​​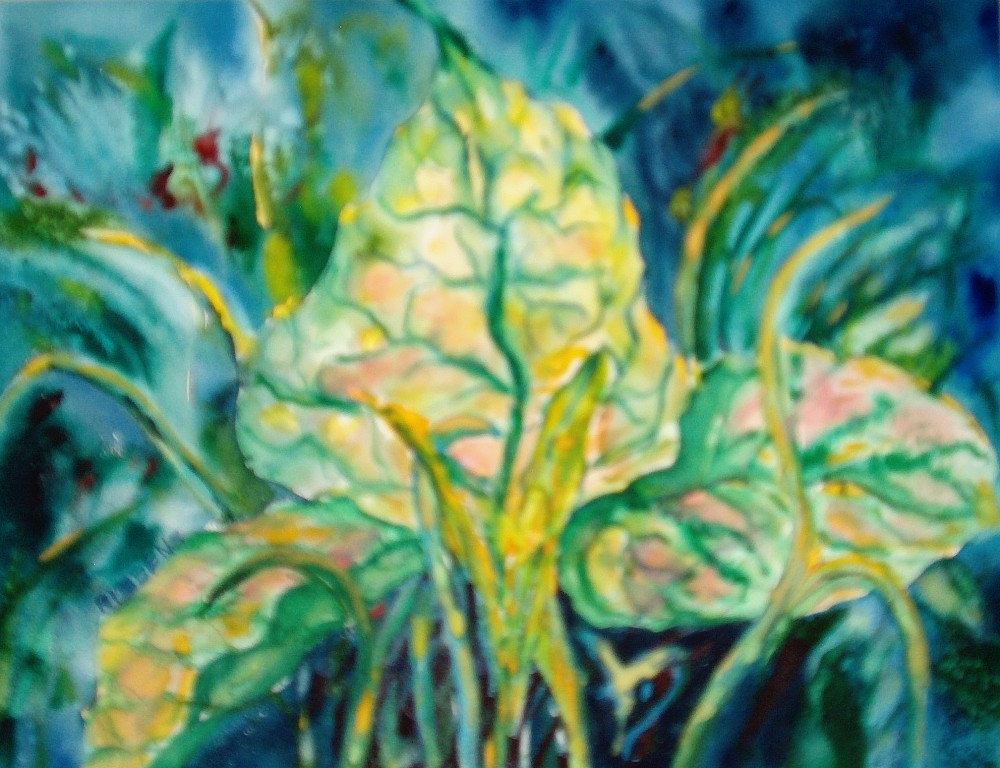 LEAF TROPICALE
watercolor
matted and framed
SIZE:
$​​​​95.00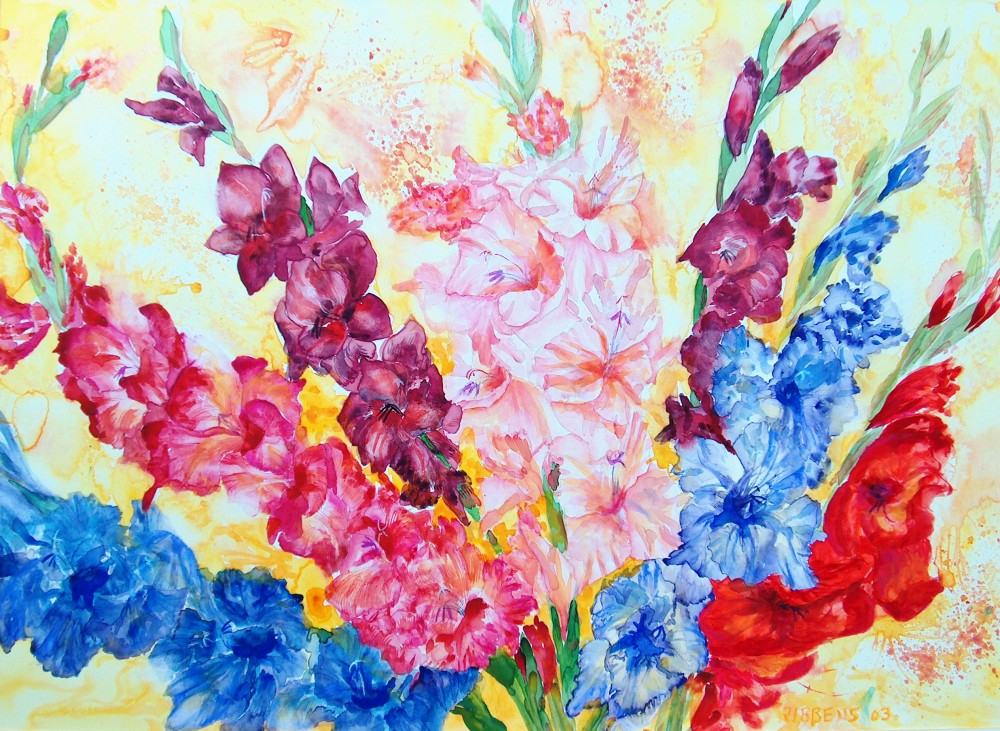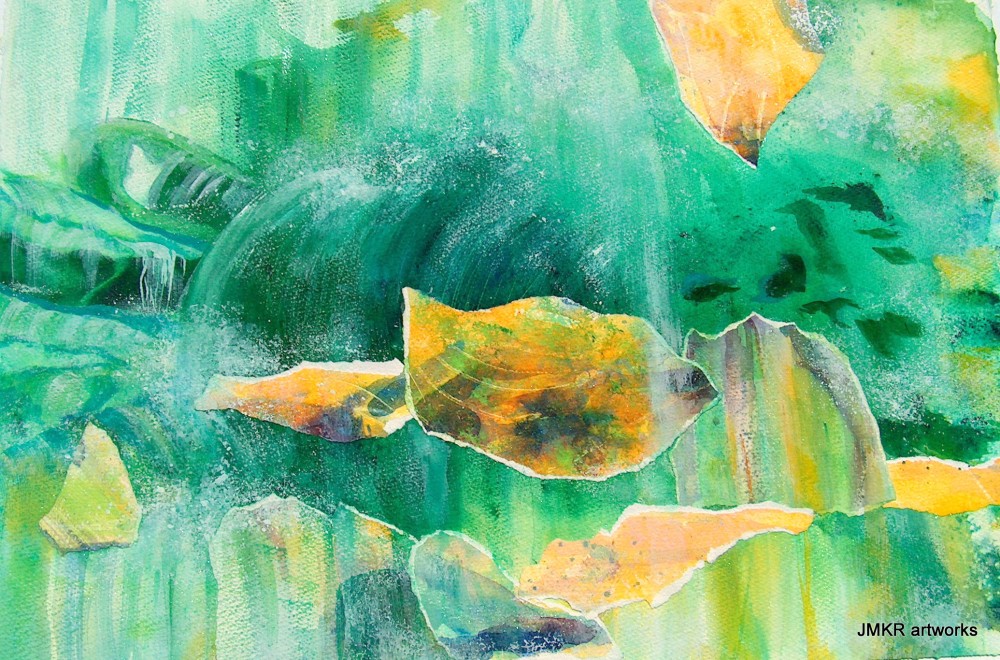 WATER GREEN
watercolor/collage
matted
Size: 19 ½ h x 26 ¾

w matted: 14 ½

h x 22 ¾ mat opening

:

Subject: waterfall with fish and rocks:

Medium: watercolor collage, torn paper:

Style: abstract

:

Presentation: double mats, no frame

: Price: $185.00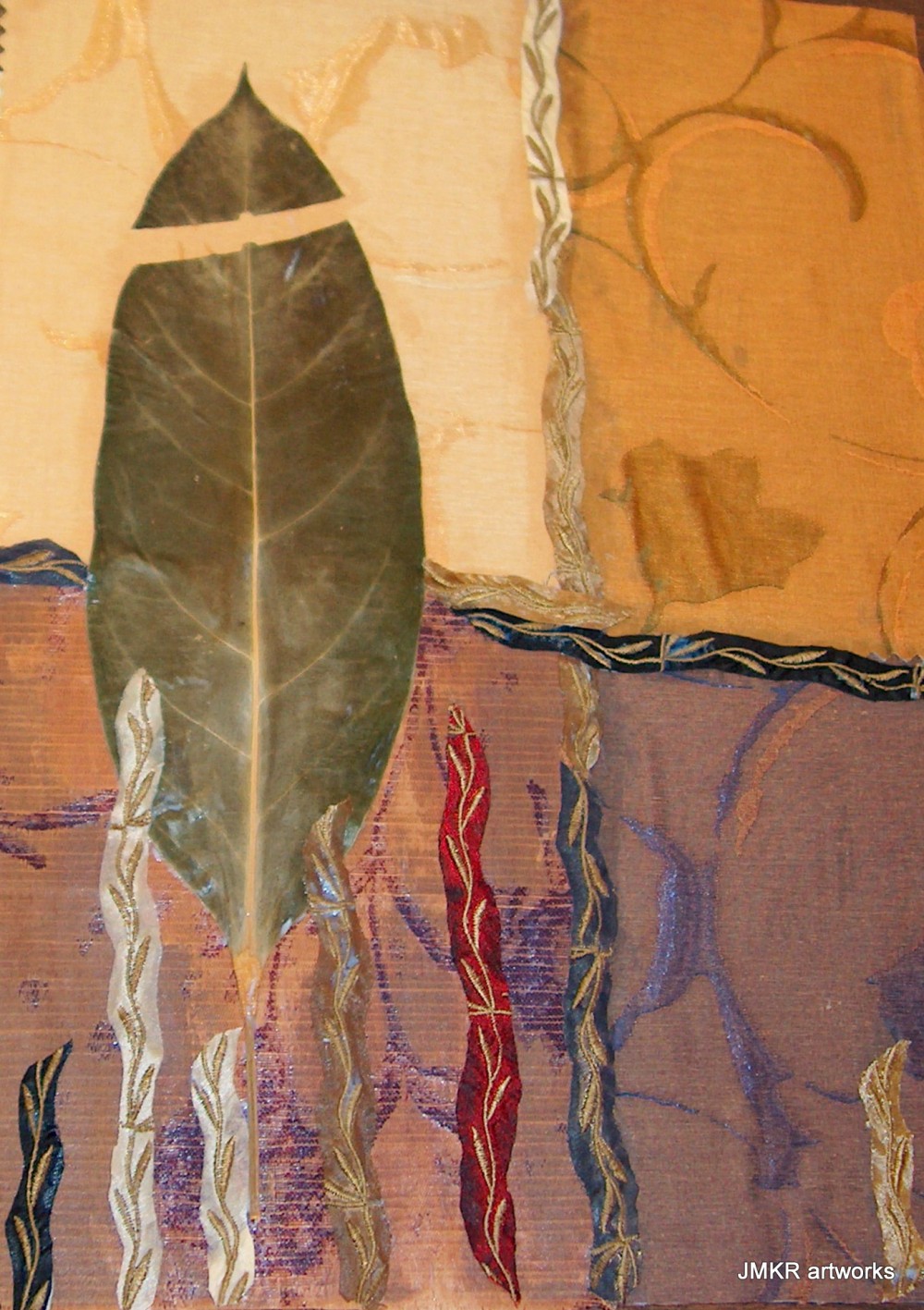 A GLAD CELEBRATION
watercolor
matted and framed
SIZE:
$​ 600.00​​​
LEAF
mixed media/collage
matted
SIZE:
$​​​​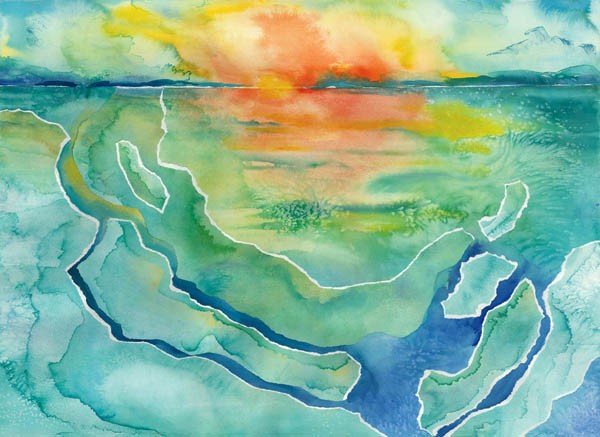 CARIBBEAN SUNSET
watercolor collage
matted and framed
SIZE:
$​​​​​ 625.00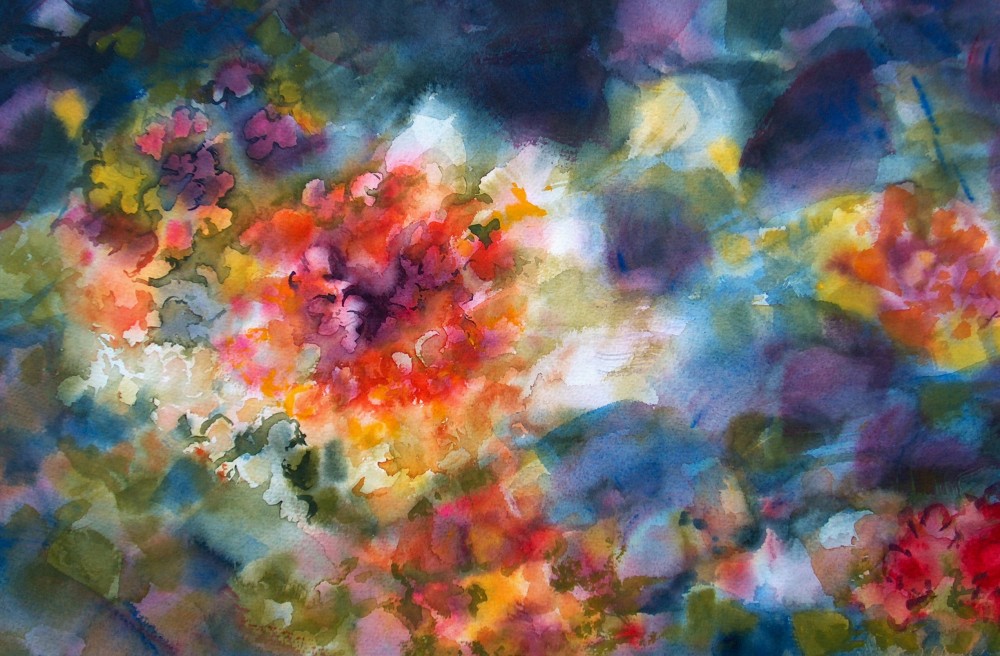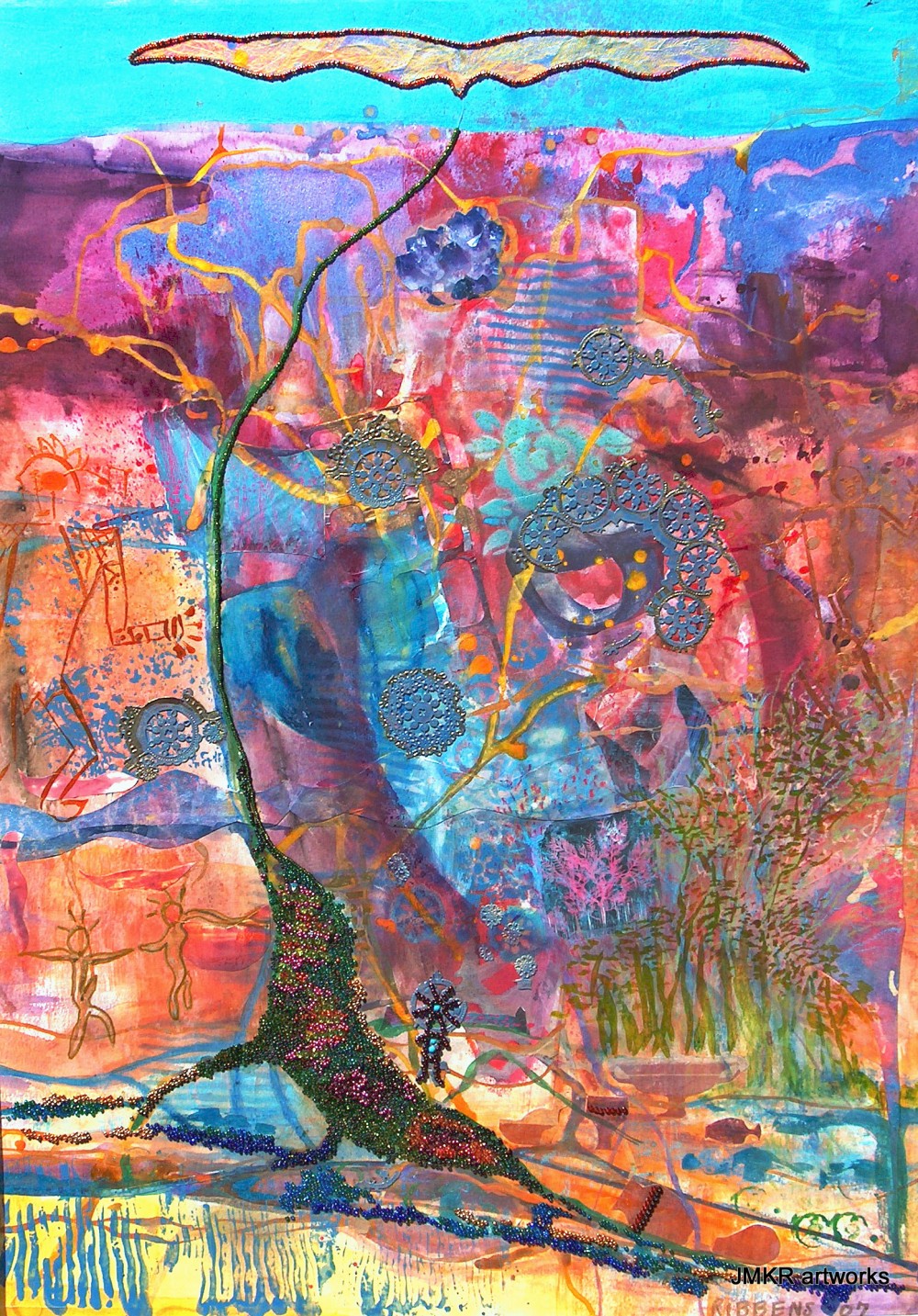 NIGHT WINGS
watercolor
matted
SIZE:
$​​​​250.00
CANYON SPIRITS
mixed media/collage
framed and matted
SIZE:
$​​​​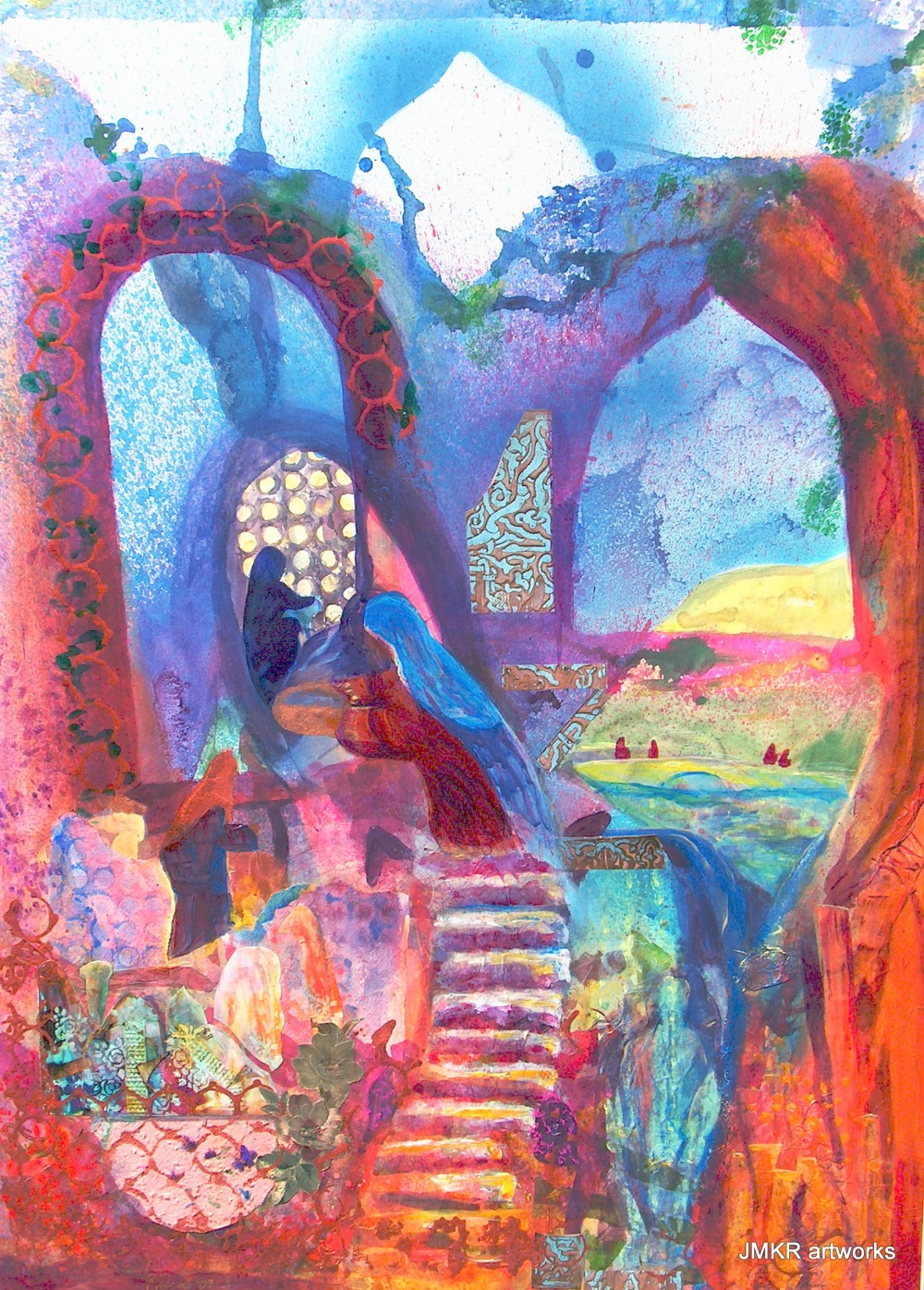 MOUNTAIN SANCTUARY
watercolor/collage
matted and framed
SIZE:
$​​​​ 395.00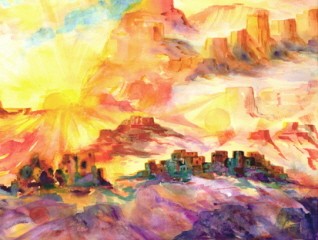 NEW MEXICO SUNRISE
watercolor
matted and framed
SIZE:
$​​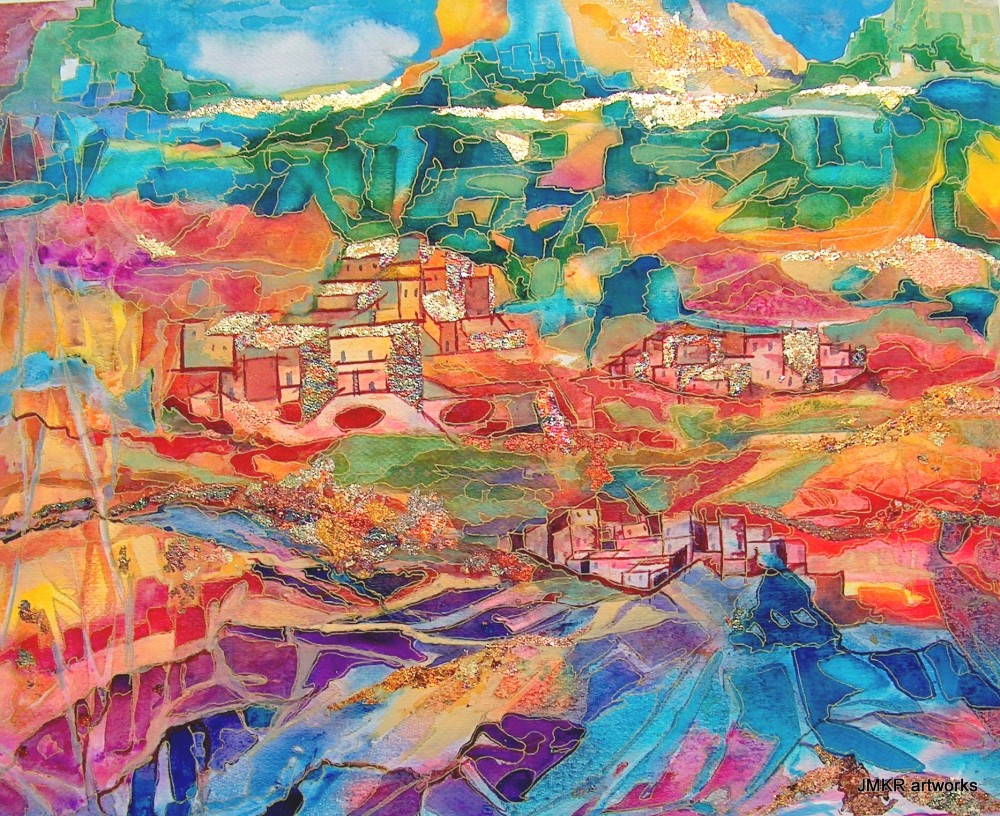 SEARCHING FOR CIBOLA
watercolor/pen
matted and framed
SIZE:
$​​​​735.00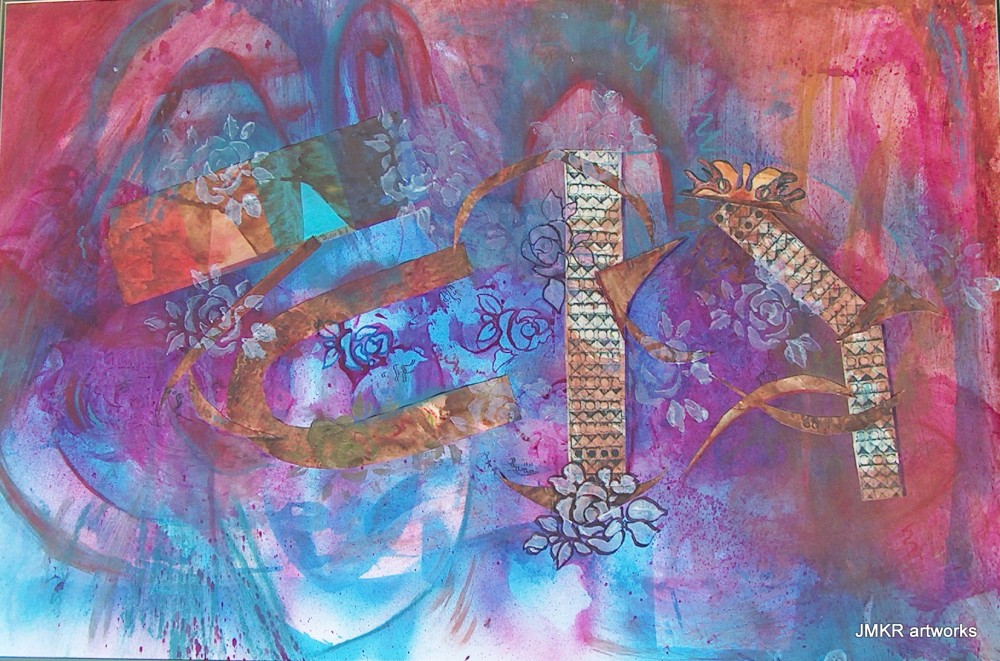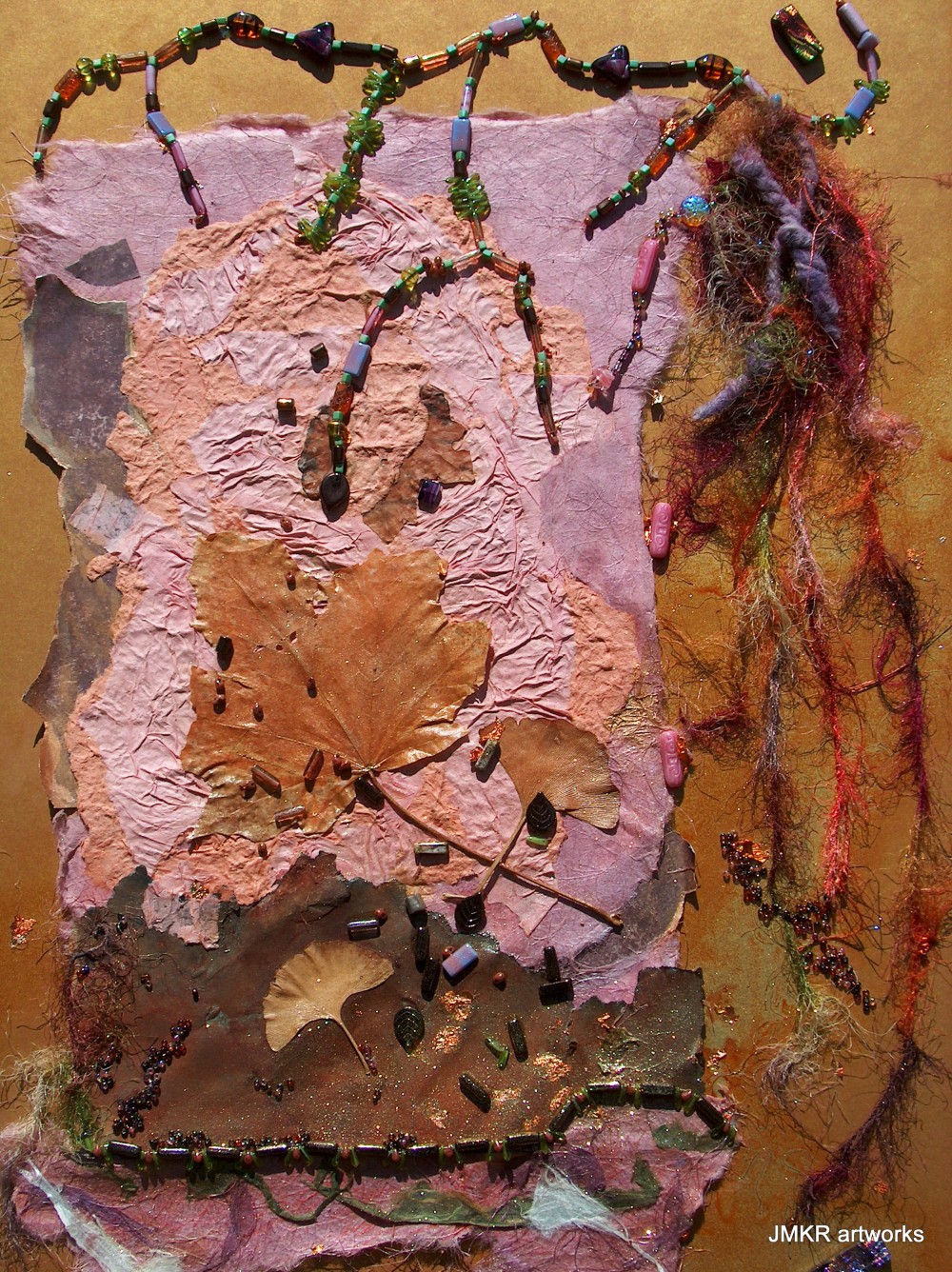 THE OLD ORDER PASSETH
watercolor,collage
matted and framed
SIZE:
$​​​​525.00
AUTUMN NOCTURNE
mixed media/collage
matted and framed

Autumn Nocturne
Size: 36 ¾ h x 26 ¾ w matted and framed:
Subject: autumn sings a last song:
Medium: collage: pressed leaves, handmade paper, fibers, beads. Colors of wine, pink, gold, muted tones:
Style: abstract:
Presentation: quadruple mats, wood frame with mottled finish in gold and brown tones
Price: ​​
$350.00
SONGS FROM THE SOURCE
mixed media/collage
matted and framed

Size: 29 ½ h x 38 ½ w

:
Subject: music from the spirit energies of the universe:
Medium: collage on handmade paper:
Style: abstract:
Presentation: triple mats, metal frame
Price: ​
$685.00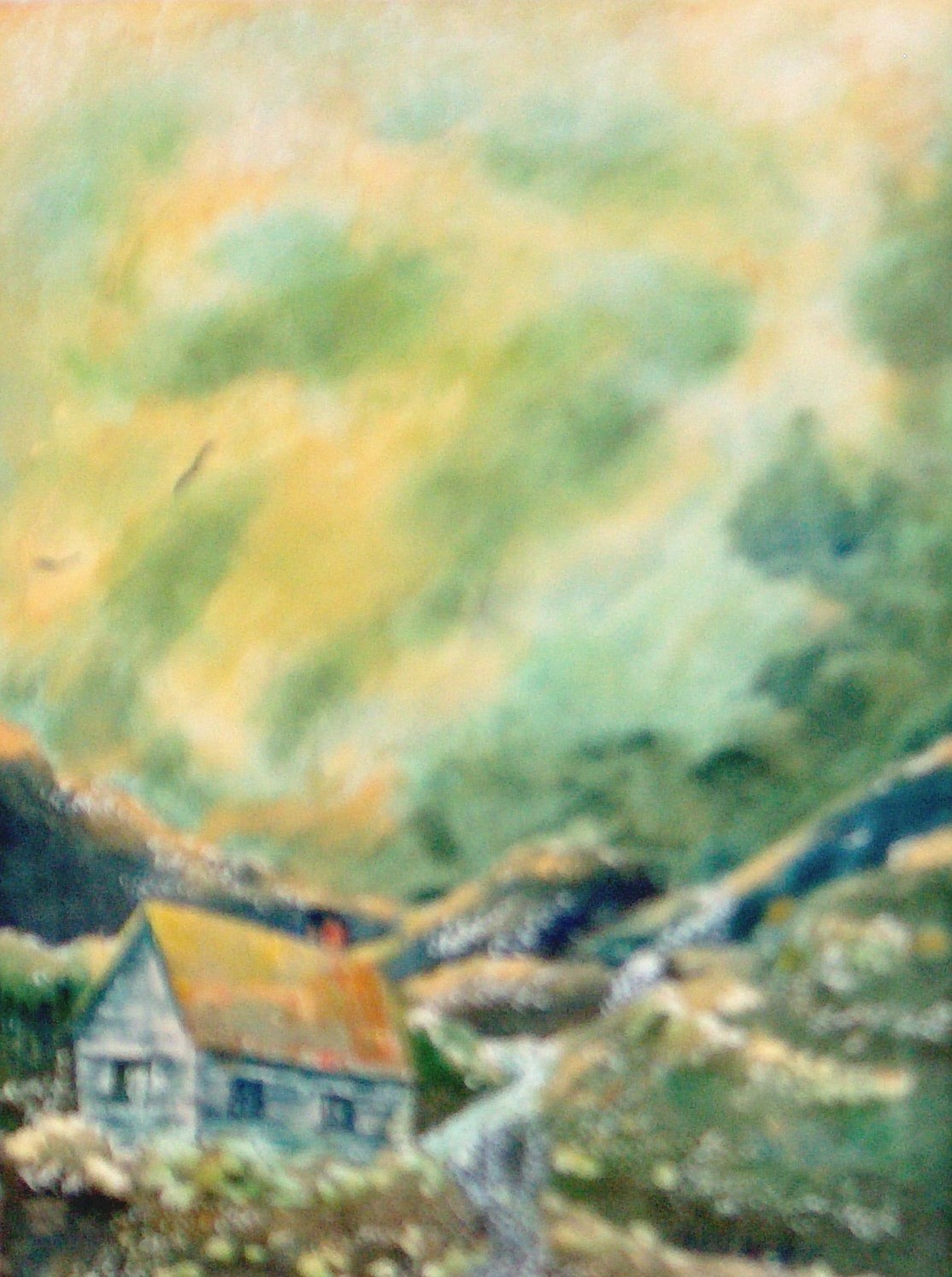 MCGILLICUDDY'S REEKS, IRELAND
watercolor
matted
SIZE:
$​ 40.00​​​

OLD EDEN'S CALL
found object, collage, beading
matted and framed
SIZE:
$​​​​ 445.00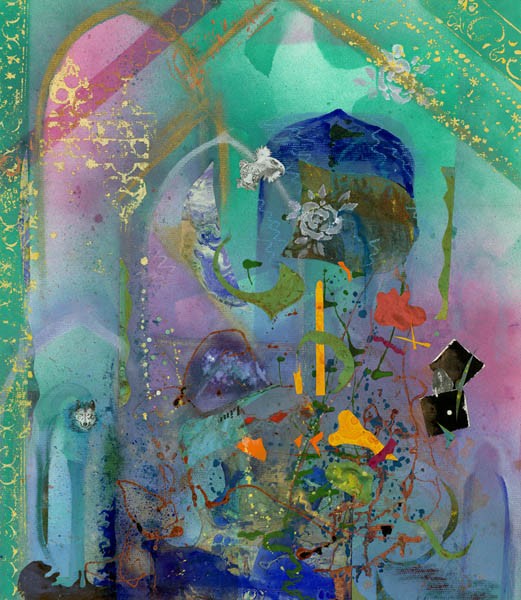 OPENING PANDORA'S BOX
watercolor and paper collage, stamping with batik designs​
matted and framed


Size: 37 ½ h x 33 ¼ w matted and framed: 32 h x 27 ¾ w no mats or frame

:

Subject: old structures breaking open:

Medium: collage: mixed media and methods: painting, stenciling, gold leaf, printing

:

Style: abstract

:

Presentation: triple mats, brushed gold metal frame, fomecore backing


Price: ​$790.00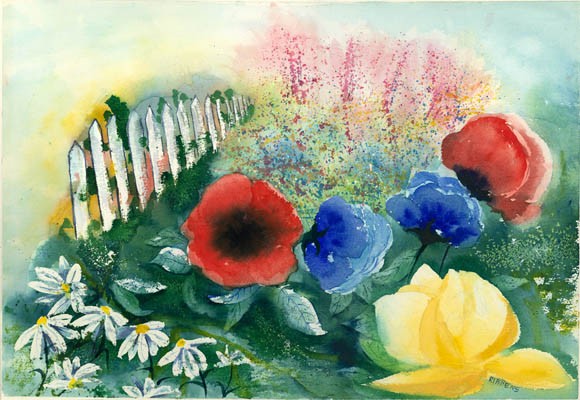 MRS. GOOD'S GARDEN
There really was a Mrs. Good and she really did have a garden in Indianapolis, IN. I was six years old.​
watercolor
matted and framed, fomecore backing
SIZE:
$​ 455.00​​​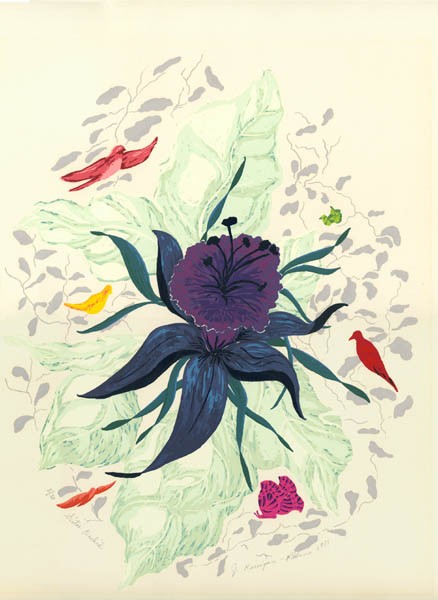 SISTER ORCHID
serigraph or screenprint
Originally a hand-pulled print series of 25, this is the only one left.
matted and framed
SIZE:
$​​​​​ 185.00
A MASTER FILE OF MY WORKS IS AVAILABLE TO GALLERIES AND COLLECTORS. judirose@tds.net is the contact.
IN CASE YOU DIDN'T NOTICE, I LOVE COLOR!
​

LOTS OF COLOR!!!