"

Gold Butterfly with Mirrors"
"

Blue Mirrored Butterfly"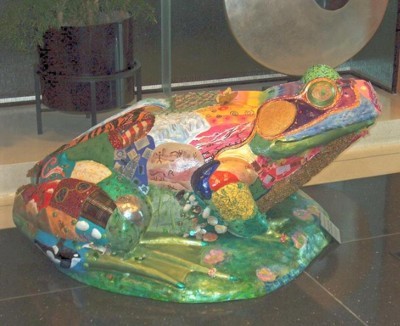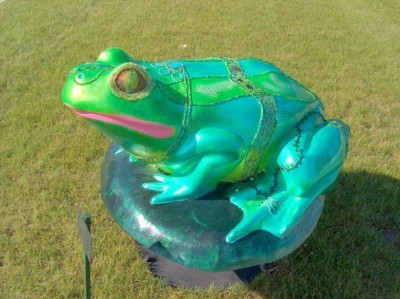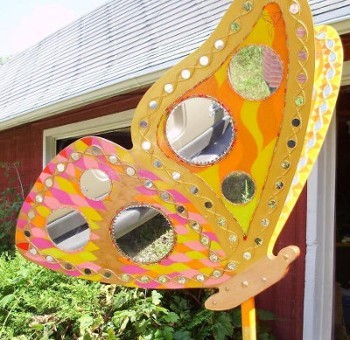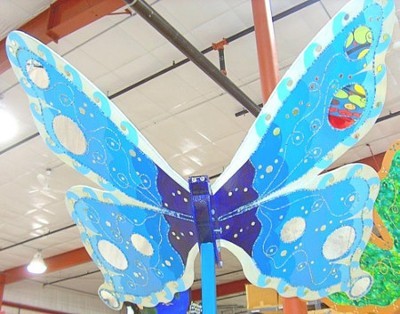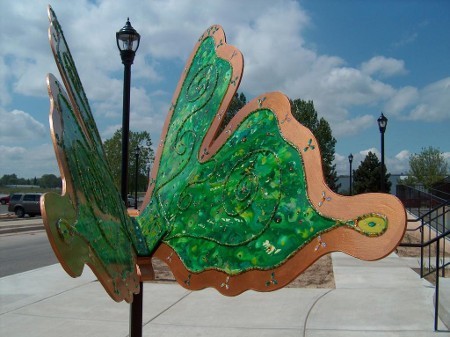 Among my most wonderful art experiences are the sculptural designs done for the Einstein Project of Green Bay, WI. The Einstein Project is a non-profit group organized to provide science projects for teachers and students in elementary and secondary schools in this area of northeastern Wisconsin.

To raise money, they have a contest for artists who are invited to submit designs for decorating the surfaces of creatures such as frogs (or toads), dragonflies, bugs, and best of all, butterflies. The resulting wonderful sculptures are displayed in and around Green Bay all summer long, and in October are auctioned off to raise money for the organization.
I have participated in these projects for several years and have added the Einstein Galleries for your enjoyment.
Done the first year the Einstein Project did this promotion, Froggy on the Fringe developed a whole story to go with him. He left his safe pond to travel all over the world, mostly because he was a misfit in the
frog world.
In the process he acquired "camouflage" everywhere he went and so had strange and wonderful mementos on his body of each place he had been. He had great adventures in each place and eventually returned home to a warm welcome.
Size: 4"x 3" x 5"
Subject: Animal
Media: Sculpture/ Other
Style: Whimsical
Status: Sold
This frog is wearing jewels in her favorites shade of greens, every green imaginable!! And everywhere--jewelled belt, rings, headpiece, bracelets!!
She was done the same year as the dragonfly.


Size: 5" x 6" x 3"
Subject: Animal
Media: Sculpture / Other
Style: Whimsical
Status: Sold

Originally done in 2003, this butterfly needed much repair when it was blown over in a high wind and sustained mirror breakage and some scratches. It had been exposed to the elements and had dirt and erosion on the surface. Much of the upper and lower wing structures had be be scraped and cleaned and most large and small mirrors had to be replaced.
What a job!!! But it turned out great and I was able to return it to its owner looking very good!!!


Size: 4" x 6" x 3"
Subject: Insects
Media: Sculpture / Metal
Style: Whimsical
Status: Sold
Done the same year as the yellow butterfly, this was a favorite of mine. It was displayed on the Dousman Street bridge between East and West Green Bay. I remember wishing my parents had been alive.
Mom grew up on the East side and dad on the West side and they would have loved to have seen the butterfly there, uniting the two sides of the river.

Size: 5" x 6" x 3"
Subject: Insects

Media: Sculpture / Metal
Style: Whimsical
Status: Sold

This butterfly was displayed on the East bank of the Fox River.
Size: 4" x 6" x 3"
Subject: Insects
Media: Sculpture / Metal
Style: Whimsical
Status: Sold