WRITER,

ARTIST, PHOTOGRAPHER
THE HOUSE



There was much that Anna and Art never knew about this house when they first bought it. Some of the secrets were discovered by their children in the explorations children will do. They seemed harmless at the time.
It was the people who lived in The House​ who had secrets Anna was to discover, secrets she was appalled, sickened, and saddened to find out.
Her account of The House here is from a more innocent time, before she knew about the lies and the predator that stalked them all.

The following journal entries are completely unedited and so may seem to ramble. Clearly, she loved their house, however, and lavished care on it. As the entry opens, she is expecting the seven-year wait for the official declaration of Art's death to end.

Anna writes of The House…unedited excerpts from her journal



As I write this, I remember standing at the top of the hill that day at the end of August when the seven years were nearing an end. I gazed down Emilie Street as it descends toward the Fox River, through the green, well-manicured carpets of lawns and arching elms of the Astor Neighborhood. I remember marveling yet again that I had lived in The House all these years. Art and I always spoke those words with capital letters—The House—a very capital T and an even larger capital H.
​
****
​​​ When did it begin? Did it begin with The House? Were we greedy for a grand house? A prestigious neighborhood? What was I wanting? What was he wanting? Were we wanting the same things? I thought so then, but were we really? What got so twisted?
Perhaps it began with our ambitions, our own expectations all those many years ago. We wanted so much to move up in the world. It was our ambition and the yearnings of our relatives to "better" ourselves.
Yes. I think I must begin this account with The House and our lives in it. The House is as much a character in our story as we are.
What is happening now has its roots deep in our past and that of our neighbors from the West Side, which used to be called the Irish Patch by our grandparents.

****
It may not be the largest Victorian in the old east side Astor Neighborhood but it comes pretty close. We bought it in 1966 when Art made partner in what was then the law firm of Sullivan, O'Keeffe, Murphy & Meyersdorf.
Originally The Firm (that too we capitalized, for it was an entity unto itself, had a life of its own) was the Irish-Catholic, Jewish alliance against an Anglo-Protestant legal dominance. It was the third-generation-after-immigration, graduated-from-college, up-from-the mill-and-railroad-yards, oh-my-god-we-made-it-to-the-East-Side-on-Monroe-Street answer to the passed down ambitions of our immigrant parents or grandparents.
The House was where we moved our growing family of the two of us and two children, with room for the entire Irish Patch of relatives and friends. Across the years we had entertained, holidayed, played, danced, and taken in numerous people as guests in The House.
If you came, as Art and I did, from the lower West Side, you learned from the old men to call your neighborhood the Irish Patch. You learned this from your grandparents, and if your parents had become Lace Curtain Irish, out of Shanty Irish, fueled by a passion for education and to "better ourselves", then you will know what it was to move to Astor Neighborhood and above all, to Monroe Street, or Jefferson Street, or Quincy, or any of the original streets of the old Astor plat. That's John Jacob Astor. That was where, supposedly, the rich and successful and well educated people lived. Old money or nouveau riche, it was THE place to live. And we moved there.
​
The House. Four stories not including the basement. It sits on the west side of the hill that slopes down to the Fox River, on the corner of Emilie and Monroe streets. At the foot of the hill ran the old Milwaukee Road tracks, still much in use by trains as our children grew up, but now converted to a biking-skating-running-footpath from the mouth of the Fox River and extending far south beyond De Pere for many miles into the Wisconsin countryside.
A covered porch wraps entirely around the east and over half of the north side of The House. The porch is covered on the lower basement half with lattice work, under which a long succession of rabbits and raccoons have had a home too. The kids called it the Rabbit Hutch. I had planted bushes to shield it, along with large and small varieties of flowers, so it became a garden that lasted from the first hints of spring through the last leaf of fall. A Lady, she is, not quite a Victorian "painted lady" but nevertheless, a Lady.
On the first floor, in summer, the porch is enclosed with screens where we still spend long summer days and nights, watching the traffic go by, or the activity at Hazelwood, the neighboring historic home, one of the original homes from the time of the settlement of Green Bay. The flat porch roof is accessible from the upper windows of the second floor. It used to have a waist-high railing around it and we sunbathed there when the kids were young. It has a turret-like tower above the northeast library area, with windows on each floor of this tower looking down on Monroe Street.
When Art was alive, we had The House repainted about every ten years or so. Currently it's a cream color, accented with very pale blue trim. I was unable to consider any repainting these last seven years but now it will be one of the first things I do. The yard slopes in a long hill from Monroe Street down to the footpath and then drops abruptly to the Fox River.
​ Over the years I planted bush after bush, and flower beds, and trees, adding to the old elms which make Monroe the stately street it is. We, the home owners on the street, shared a battle with Dutch Elm disease and were successful. I planted bridal wreath, lilacs, roses, mock orange bushes. I made beds of perennials--tulips and daffodils and crocuses in spring, phlox and daisies and sage and numerous others for summer and fall. I created color and texture with every interesting plant I could find. The annual beds were planted with cosmos, marigolds, cleome, morning glories, and so on..
Originally Art and the neighbors thought I was crazy. Now people drive by slowly and even turn down onto the dead end of Emilie Street that runs alongside The House to stop and take pictures. Some come to the door to ask what flowers are in the beds, others bring something to add. This doesn't happen often, but I have been thanked again and again for bringing some beauty and joy to those who pass by. I don't take the credit. Flowers and plants do that. I did it all for me, selfish, greedy for beauty.
At the back, our garage is built into the hill at basement level. We made the roof of the garage into a deck, with doors to the kitchen and to a small room, our "tv" room, which lies behind the formal dining room. At the foot of our lawn, I planted lilacs between the footpath and our yard. They are now a high hedge. To keep the children safe, we put up a metal fence with a gate. It wouldn't keep anyone out really but it had the effect of giving us more privacy from the numerous cyclists, power walkers, runners, strollers, and skateboarders who use the path.
Across the street, occupying an entire block, is a school. It used to be St. Joseph's Academy, high school for Catholic girls. When the Catholic Church could no longer afford separate girls' and boys' high schools, it was purchased by the Lutheran Church and became their school. Premontre High School, the boys' Catholic high school, on the west side of Green Bay, became coed, renamed Notre DameAcademy, the city's Catholic high school. Cory and Alex attend there now.
​
As a child I had crossed the old Fox River bridges to the East side of the river and explored street after street on my bicycle, looking with longing at the old homes, wondering what people with so much money did, and if they appreciated what they had. Any dream of living here was just that, a dream. If I so much as mentioned being here, I was chided for having "grand toughts" and "bayin' above yrself", even above being "lace curtain Irish", which was what the O'Keeffe's were. They had a huge old stone house with big rooms, a long drive, and a carriage house on Chestnut Street. They had real lace curtains.
​
The House. When we first decided to even look at it, we were filled with awe. Dared we even consider it? Dared we even look? Back in late '65, (I think, or was it 66?) when Art and I walked through for the first time, we could barely suppress our excitement from the realtor. He was, after all, representing the seller, and we thought we might have to pay more if he saw how much we wanted it. We kept moving from room to room and floor to floor ahead of him, looking at each other with astonishment and pure joy. We never even thought we could look at a house like this until now, now that Art had "made it".
​
He had made partner in The Firm, now called O'Keeffe, Kinneally, Soderberg and Moss, the epitome of his dream. He was working hard for his dream, spending long days and many nights immersed in the cases coming to him and I was told by all that he was doing a great job, how brilliant he was as a lawyer. I just loved him and I was proud to be his wife. Neither of us had entertained any doubts he would be a partner.
We thought we'd have to bargain for the place and were amazed when our first offer, just over assessed value, was accepted right away. That seemed a sign somehow. We moved in with our bed, two baby cribs and nothing else, essentially camping out in this huge place. Our friends in the Irish Patch thought we were crazy and remarked yet again that we were "getting above yourselves, aren't you?" Only Big John O'Keeffe had a good word to say. If fact, he had quite a few words to say and let everyone know it, so they backed off. They said we were snobs. Well, they were right. At least in my case. A bit of a snob, I was and am. I love this huge fancy house.
Acceptance of our offer was a sign but not a lucky one for a while. We had to have the furnace replaced in the second year, the water heater had gone in the first year, and we had more children and numerous repairs over the next years, so we did have our occasional thoughts that we had been stupid and bitten off more than we could chew. But with Big John's encouragement and a loan from him to help us through, we persevered. The Firm prospered, and so did we.
​
Art and I opened our house to all our relatives and friends from the Irish Patch. At first, many came out of curiosity about the house. No one we knew, except for the O'Keeffe family, lived in anything nearly this grand and with the cachet of the Astor Neighborhood. They came too because they loved us and/or loved a good party. "When don't the Irish love a good party? " asked Aunt Carrie Brennan. She considered The House our due for going through college.
​
I think now that very few of the poor and lower middle class, which we were, have the confidence to move in other circles they (we) considered "above us". I know I had adjustments to make. I was meeting people, through the contacts Art made in business and legal circles, who definitely looked down on us as "above ourselves". Thanks to my mother, lace curtain in manners, though she would never admit it, I could make my way through a social dinner with the best of them.

But, for example, I had to learn a different attitude about how I dressed, having spent my early married years in jeans and Art's old shirts, which I regarded as the only suitable clothing to take care of the work of a large house and many children. When we moved into the house I had two 'good' dresses, one skirt and blouse, and one 'good' pair of shoes. The rest were jeans, Art's old shirts, and sneakers. Even in college I had never cared much about clothes. Now I was mingling with women who cared very much about how they and other women dressed. I resisted for a long time, labeling them snobs. A finger pointing at them, three pointing back at me, don't you know. Reverse snobbery. But with four children, I felt I was being very practical.
I spent some nights crying at the cold snubs of some of the women in the neighborhood. An outgoing person, I had gone out of my way to invite neighbors over. Few returned the favor. Actually, few came even when invited. I felt only relief when Caroline and Rob Bradley moved in across Emilie Street. Caroline and I hit it off immediately and her insouciance about the snobbery --"People who keep their noses so high in the air will slip on shit sooner or later."--put me back into balance.
Aunt Carrie Brennan, our most sophisticated family member, twice widowed and once divorced, or twice divorced and once widowed--I never remember which-- (a bii-i-ig Irish Catholic no-no!) --waltzed in one day while I was in a messy state after cleaning. Horrified, she decided to "take you under my wing"​ and re-program me "after your mother's years of brainwashing about remaining lower class as an exercise in humiliation, which she mistakes for humility." I received one long and pithy sermon in self-esteem, in which she pointed out that refusing to dress well can be a form of reverse snobbery.
She called in a cousin to babysit and we went on a shopping spree on her credit card that extended from Goodwill to Prange's to a new dress shop of high-end dresses just opened, called Milady's or some fancy name like that. This included a running commentary on style, that it can be found anywhere, that what I wanted was style, not excessive price, and that style came first. And so on. And on.
She then took me to a beauty parlor, which I had avoided for years, and essentially bullied the hair stylist into a more becoming design than long strands of flyaway auburn hair. She ended with "This year, Green Bay, next year Chicago! You need to know how to get along in all circles."
She has kept her word. It's been my Christmas present from her every year to replenish my wardrobe, and I have learned style. I fell in love with Chicago, and later took my own daughter, Marnie, down for shopping, and all of us down for immersion in the arts. And I still check out Goodwill first.

****
Art ate up our change in status and never looked back. Like I said before, for Art, The House was a symbol of his success, the setting for the charming and ambitious person he was. Art could charm anyone and did. He charmed me into a lot more sex than the "good Catholic girl" I thought I was, certainly more than I ought to have been having before marriage. When it came down to it, I guess I never was all that "good" because I always figured if God made sex with all the pleasure I and others I knew seemed to get out of it, He wanted us to enjoy it as much as possible. Art and I sure did. In the month after we moved in, we enjoyed "christening" each room in the house, basement to attic, once the children were in bed.
​
Art settled into work with The Firm and I became a traditional Catholic housewife. We proceeded to fill The House with second hand furniture and first edition children. An old Brown County Library table, which I purchased second-hand, went in Art's "office" along with rows of law books on old shelves he found in the basement of The Firm. With Art's full attention on The Firm, it fell to me to furnish The House. I found us that long library table when the Brown County Library sold some they didn't want. I bought a long church pew from St. Mary of the Angels when they redecorated and it sits in the long hall that runs from front to back in The House. I loved decorating our home!
​
I decorated, at first with paint, later the paint giving way to wallpaper. The used curtains became specially designed drapes. We began with no appliances and bought a washer, dryer, stove, and refrigerator, on time payments at first. We added a freezer later, still paying by the month for it. It was years before we paid for anything outright. Later I steamed the wallpaper from the walls of some rooms and replaced it with faux finishes. Antiques were set in here and there. Old gave way to new or very old as my knowledge of decorating grew. I have a flare for it. Nearly everyone who visited loved The House as much as we did.
​
The children made it their castle complete with Dungeons--the basement had an old cistern and coal bin, and a walk-in room for canned and preserved food. On the north side of the house, midway between the front and the back, was a cellar door, one of the old ones, dug down into the foundation, with slanting doors to the outside and a heavy lower door barred from within by a length of 2x4. I taught them the old song, "climb up my rain barrel, slide down my cellar door, And we'll be jolly friends forever more". They did use it as a slide, and as the door to their Dungeon. And of course, they had their Very Own Tower!
​
When the first three were little and very adventurous, they discovered three "hidey holes", portions of The House which could have held a small person and which were covered by flooring or wall construction. Being aware that children will keep their own secrets, I am also aware that they "forgot" to tell me about two more "hidey holes", but I found them anyway. I was surprised to find so many odd
spaces in the house, but Big John O'Keeffe, who had his own construction company, said that was not unusual in the old homes.
​
We entertained. I delighted in cooking for large parties. Art loved to have The House lit up with evening parties, the porch filled for afternoon picnics, and the yard full of kids and pets. I loved it too. I loved it all. Art's responsibilities grew and The Firm became more and more successful. He sat on boards and chaired committees, and took his business trips. We acquired Packer tickets. I am not a football fan so he took friends to the games. He hunted and fished. And, for his fortieth birthday, I gave him flying lessons so he learned to fly his own plane.
​
Sometimes I went along in the plane. My favorite ride was to fly south at night down the Fox River Valley, watching the lights of De Pere, Kaukauna, Little Chute, Combined Locks, Kimberly, Appleton and all the way to Oshkosh, Lake Winnebago, and back. Looking back now, I realize that slowly, over the years, he went more often with Jonny O'Keeffe, his best friend and Big John's son. He used the plane for business trips to Milwaukee, Chicago and points west and south.
​
I grew in other directions. I loved art and music and drama. I had a few of my poems published, took ballet to help keep my figure and because I loved it. I bought paintings, ceramics and sculpture from local artists.
​
Above all, I mothered children with cooking, cleaning, gardening, nursing, chauffeuring, nurturing, and on and on. We sailed into middle age, not even counting the years, just living them. At least I did.

Then it all ended. Seven years ago that life as we knew it ended.


You can also find me on LinkedIn.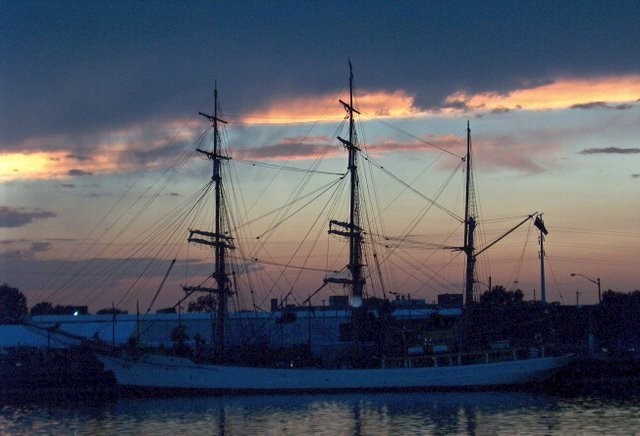 Reading takes the mind to faraway places.
​SAIL AWAY!